A few months ago, I entered a giveaway to win some
Fiber Love Bars
from
Jessie's
Giveaway. Unfortunately I didn't win, but a few days later, Mary Kate from
Fiber Love
emailed me. A wonderful lady, with lots of energy and enthusiasm for her products. When I returned back to my apartment after Christmas break, there was a lovely little package with lots of enticing flavors to try, and a cute handwritten note. Unfortunately, I had only just started my gluten free challenge the day before, so I had to count down the days till I could try them.
As I am sure many of you know, when you return from a run, you are often ravenously hungry. I always try to have some kind of snack while I stretch/make breakfast/shower as it is so important for your body to start the recovery process within 30 minutes.
The first day I was back on gluten free foods was the perfect day to give the
Fiber Love Bars
a try. It was a hard decision, with lots of appealing flavors, but I went for the Blondie bar, as blondies are one of my favorite desserts.
I have had fiber bars in the past, and I have to say I was not a big fan, but I could tell that
Fiber Love
had put a lot of time and effort into their product, so I was hopeful. As I stretched outside in the cold, I tried my first bar, and really enjoyed it. It tasted more like a chewy cookie than a fiber bar. One of those bars that you can tell is really good for you, but did not taste like bran flakes.
This is a pretty impressive feat for a bar containing only 130 calories, while still bringing in 12grams of fiber. That takes you well on your way to a healthy digestive system (48% on your way if you are a numbers person). The bars have a variety of grains and seeds that each bring their own nutritional benefit to the mix.
With flavors like Blueberry Cobbler, Banana Walnut, and Carrot Cake, there is sure to be a flavor for you. My personal favorite was the chocolate brownie as it tasted like a real brownie....just with a bit more of a texture, kind of similar to a no-bake cookie, which is definitely not a bad thing. I love a variety of textures in my food.
Fiber Love
is not just a good looking, great tasting product, they are Non GMO Project certified, and kosher! I also loved the bright, fun packaging they were dressed in! Not to mention the company itself is a genuinely, lovable company, who really cares about their customers. If you don't believe me, check out their About page
HERE
, you will love them as much as I do!
All about the love!
I decided to have some fun with my
Fiber Love Bars
, taking advantage of the special day coming up this week. Using cookie cutters to make them into hearts, and warming them in the
oven
microwave for a few seconds to make them even more like a fresh baked cookie. It is the perfect time to try out these bars, find yourself in Fiber Love.....see what I did there ;) They say not to laugh at your own jokes right? I am definitely chuckling away to myself right now.....pathetic :)
Oh, one more thing! I am participating in Fit Tip Tuesday with Lisa from The Skinny on Health:
My Fit Tip of the week is Remember you are only human! At this time of the year, it is easy to get sick, have to miss a day due to bad weather, or not get as much as you wanted/needed to. That is completely okay! Do not get down on yourself, we all have slip ups, and tomorrow is a new day. Forgive yourself, and continue as you mean to go on.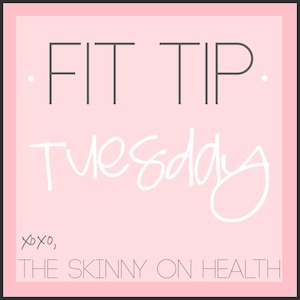 Have you ever tried Fiber Love Bars? What do you usually eat when you return from exercise?
Would love you to follow me: